Discussion Starter
·
#1
·
Yes, we all know the car design is big, bold and beautiful, with the drivability to match, but it is also some of the little details and features that help to make it feel particularly special. Been playing around with the camera and took a few 'ambient' appreciative photos...
The brushed satin steel padal covers - they're almost too nice to put your feet on, but only 'almost' ! :lol: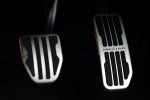 Normal or Dynamic - there can be fire at your fingertips!
The satin chrome manual gear selector - hey, nice milling chaps! :mrgreen:
The tasteful console layout - presses all the buttons!
The Leaper on the tailgate - beautiful quality . . you know when you're following a Jag!
The black-pack side vent with the R-Sport decal - very expensive for a bit of black plastic, but it sure ticks all the boxes!
The Growler on the grille - well, it says it
all
really! :twisted:
View attachment 1710