Discussion Starter
·
#1
·
Jaguar design director Ian Callum told Auto Express during the 2015 NAIAS, that at some point, the company was considering the X-Type moniker.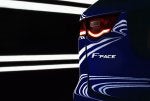 "Creatively speaking, I had little role in the choice of the F-Pace name, but I was clear on saying it needed to have a reference to sportiness", said Callum. "We played with the letter X a lot - XQ was one option but we felt Q is too much of an Audi thing, and of course Aston Martin uses Q."
No Q, then. So, what was next on the menu? "We even toyed with the idea of calling it X-Type, which would have been an obvious one. Had there not been an X-Type in the past, it would have been a good choice. I was brave enough to go for X-Type, but there were a lot of other people who weren't."
He divulged that around eight names were put on the table before being short-listed to three, and then the F-Pace moniker was chosen for the production model.