Discussion Starter
·
#1
·
The all-new Jaguar F-PACE helped propel Jaguar Land Rover to its best ever May, with retail sales of 44,946 vehicles, up 18% on May 2015. This is the company's fifth consecutive record-breaking month. Jaguar Land Rover sold 245,100 vehicles in the first five months of 2016, 23% up on the same period in the prior year.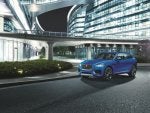 The Jaguar F-PACE, which is designed, engineered, and manufactured in the UK, has seen impressive results this month, with more than 3,000 vehicles sold worldwide. The new family sports car is the company's fastest selling Jaguar ever.
Retail sales for the month of May were up year-on-year across all regions: 28% in China, 24% in Europe, 23% in the UK and 8% in North America. Other Overseas markets were up 6% year-on-year.
Commenting on the performance, Andy Goss, Jaguar Land Rover Group Sales Operations Director said: "Following its UK and US launch this month, I am delighted to see that response to the new Jaguar F-PACE has been extremely positive - with over 3,000 global sales this month.
"We are committed to exceeding our customers' expectations by delivering the highest standards of quality and technology and by producing exceptional premium vehicles."
Land Rover strengthened its position as a world-leading manufacturer of all-terrain SUVs, with record May sales of 34,313 vehicles in the month, up 6% year-on-year, of which China was up 29%. The best-seller for the month was the Discovery Sport, retailing an impressive 10,075 vehicles. Calendar year-to-date sales for Land Rover reached 196,620 vehicles, 16% up on the prior year.
Jaguar recorded its best May in over a decade, delivering 10,633 vehicles, up 90% on the previous year, reflecting the strong launch of the F-PACE as well as continued solid sales of the XE and XF. This month, Jaguar performed very strongly across all regions, notably in Europe, where sales were 281% up on the prior year. Calendar year-to-date sales for Jaguar were 48,480 up 60% year-on-year.