Discussion Starter
·
#1
·
So, today was finally the day I got to collect my Jaguar F-Pace S.
I had my last Range Rover Sport for just over 3 years, and the time came for it to move on to pastures new.
I was finding it so hard to replace, as it was one of the best all round vehicles I have had the pleasure of owning. It looked fantastic, carried speed very well considering its bulk, and could literally go anywhere a off roaring day earlier this year proved. It ate up long distance driving, and could tow 3.5 Tonnes with ease, as it did on several occasions.
I did consider changing to a new 2017 model, but to be honest, a change is as good as a rest as they say.
When I was looking at replacing the RRS, I spent a lot of time test driving different vehicles. I needed something which could legally tow 2 - 2.5Tonne, and this steered me away from larger performance cars like the M6 Gran Coupe / RS6 (still an itch i need to scratch) although they did cross my mind!
I needed something I could carry my family in (so 2 seater sports cars were out the window also!)
I narrowed down my search to:
The new X5, which was fantastic but I just didn't click with it)
The new Q7 (just found it very boring and I honestly think the last model is a better looking and more superior car, at least compared to the model I drove which had a crappy grey cloth interior. the 3lt engine was great but quite literally everything was an extra on it!)
The new Volvo XC90 which was a serious serious contender, apart from the engine choices. someone in their wisdom has decided that 4cyl is your only option in either petrol or diesel.
I took the T8 hybrid model out for 2 days and struggled to achieve more than 31mpg combined which I found really disappointing, especially considering the premium pricing they are commanding. Interior was sumptuous however, but I could not look past the 2.0 4cyl derv engine. It was ok, but worked hard with a load on.
I also looked into getting one of the very last Discovery 4's in their landmark guise - essentially every extra conceivable and all for £51K. But, it felt old compared to the RRS.
I was in a dilemma, as I could not think of a suitable replacement.
And then I took a short cut through Charles Hurst, and spied a white F-Pace they had sitting on their forecourt during the summer.
I had a good look around it, and the salesman came out to see me. I realised he is from my local town and he and I knew each other to see. We started chatting and I told him I thought the F-Pace was stunning looking, but couldn't tow heavy enough for my requirements. When he told me the 3.0 could, I smiled!
After a bit of discussion,I got to take their S home for a long weekend, and fell in love with it. Its slightly smaller than the RRS but larger than an Evoque, so it didn't feel cramped or anything.
I knew I would be ordering one, and when the time came to build my spec, there was only one obvious choice for me, so I chose the F-Pace 3.0d S.
In Jaguars blurb they refer to it as having sports car DNA, and with 300 bhp and 700nM of torque predominantly being delivered through the rear wheels it certainly feels it. The S has the torque vectoring that makes these vehicles handle like they shouldn't be able to! On my summer long weekend of test driving with a determined drive, a bit of oversteer could be forced, but it always felt in control.
I opted for the InControl Touch Pro entertainment system, which, among other things offers me digital TV, all the usual DAB, FM, iPod, Bluetooth etc, as well as web browser. This also marries to the larger 12.3" Instrument panel with virtual dials, and like Audi's sat nav system, is shown as a full cluster.
Interior wise, as the S already has a more sports focused feel, but I opted for 14 way seats which are well bolstered but also offer extendable squabs which support right to the back of your knees (one of the things I loved from my E92 330d M-Sport). I kept everything black, and coupled with the black headlining it makes it moody inside. The moodiness can be altered however, as I also specced configurable mood lighting which, whilst it may be a bit of a gimmick is a great way of changing the interior easily.
Exterior wise I didn't add the black pack, as I felt that too much black didnt marry well with the ultimate black paint, and stuck with the satin chrome finishers. I also chose 22" polished satin wheels (although they didnt put them, having delivered them with the diamond cut version as you will see, but are sending me over a brand new set like I ordered originally)
So there we are.
It was delivered last week, and from the outset I had arranged for it to be delivered to the geniuses @ PMG to allow the boys to work their magic. There is honestly no one I would trust more to collect this from Hursts and to do what they do best. These guys are at the top of their game, and when you see the attached photos you will understand why.
Jag paint is notoriously soft, so I let Pete do whatever he wanted to with it. He opted for a bit of light machining, as even though Hurst were under strict instructions to not touch the car in any way apart from their normal PDI checks, there was still evidence of micro-marring from the factory.
when this was taken care of, he applied (and correct me if I am wrong) layers of Crystal Serum Black for depth and clarity and topped with gTechniq EXO.
They also applied their own hydrophobic glass sealant, as well as giving the interior a clean and seal.
So here we finally have a few photos, taken from the PMG Facebook page. They weather has been too crappy to get outdoor pictures, but the PMG photos show what they have achieved.
Thank you all for taking the time to read this, and I hope you enjoy the F-Pace S as much as I do.
Ross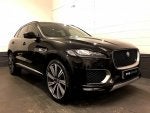 for tonights special occasion, I am feeling 'Pimp Purple' lol
digital dash in dynamic mode
digital dash in nighttime map mode
centre console screen showing google maps etc.